Caroline Dubois believes she has the tools to beat Mexican Magali Rodriguez and has set her sights on a spectacular knockout when the pair meet at York Hall.
The 7-0-0 Dubois returns to the ring on Saturday after three months away as she continues her bid to become a world champion.
The unbeaten 22-year-old credited the experienced 22-6-4 Rodriguez and will look to put a marker down with another impressive victory in London.
"She's fought some good names (Rodriguez) and top fighters and got a knockdown in her draw against Estelle Yoka-Mossely, who was Olympic champion," Dubois told the PA news agency.

"Rodriguez is tough and experienced and has had more fights than me at this level.

"I've got advantages in speed, the skill, the ability and it's just about how I put it together on the night .

"She's durable, she's never been stopped, she's tough, she knows how to take punches and ride them and how to manoeuvre through the rounds. She can cope during rounds because of her experience

"I'm looking for a win; I'm lying if I'm saying I don't want to go out and get a spectacular knockout so it's up to Magali and me.
"I want to put a good stamp down and impress a lot of people and open their eyes to Caroline Dubois."

The Briton went the distance for the first time since her professional debut in her last bout against Yanina Lescano.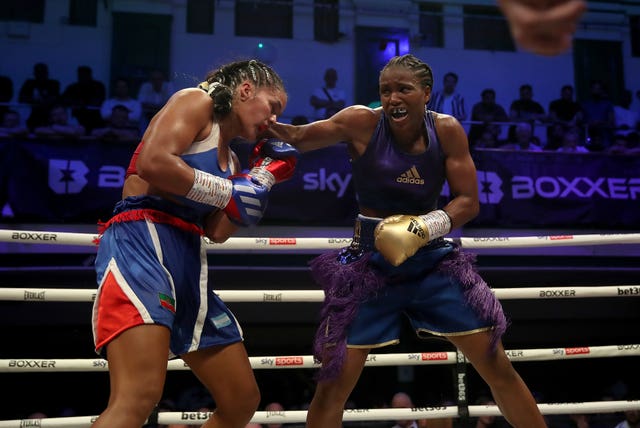 And Dubois, who is competing for the vacant IBO lightweight title this weekend, welcomed the experience of extra rounds while highlighting her dangerous knockout record.
"Lescano was really tough, she's maybe someone who would not beat world champions but she could compete with world champions at my weight and give them trouble as well," Dubois, who has won five of her seven bouts by knockout, added.
"I was able to go out there and win and know that I was able to hurt her in the later rounds and that I had the ability to overwhelm her and beat her easily really.
"Definitely (good to get experience of longer fights). At the time it was a bit frustrating but this is what will pay dividends in the times I'm in a hard fight because I know I can do 10 rounds and get through it.

"It's been every fight except two and I'm happy with it. For me to get knockouts in 10 two-minute rounds is pretty insane when you think of it.

"It's massive and so important. I can outbox someone but I've also got that factor where I can hurt them and take them out too."

Dubois relishes her York Hall return and praised the support of Sky Sports who will broadcast the fight

She said: "It's crazy and it's amazing.
"I've always been with Sky so maybe I don't appreciate it as much as I should do because some people who turn pro don't get the backing of Sky network."