Vincent Kompany is excited about Wilson Odobert's potential after watching the teenager score on his full debut for Burnley in a 4-0 Carabao Cup win over League Two Salford.
The 18-year-old had already tested home goalkeeper Alex Cairns on a couple of occasions before crowning a comfortable win for Burnley with his 81st-minute strike, collecting a cross from the impressive Anass Zaroury and cutting back inside before firing home.
It was only Odobert's second appearance in a Burnley shirt following his summer move from Troyes and while Kompany will not rush the young Frenchman, the manager wants him to be making a regular contribution soon as the Clarets look to turn around their Premier League form.
"We talk about the team settling and stuff and as I've told you, some of the guys who will be the heroes for us this season, you don't see them but I see them in training and we have to be prepared for them to come into the team," Kompany said.
"Guys like Wilson are these type of guys. You can see the talent. It's a matter of time. Is it tomorrow? Is it in a week or a month's time? We don't know. We'll go with them.
"Just like Luca Koleosho, we've some exciting players and hopefully they'll be able to show it very soon for us. We'll need it."
Kompany made 11 changes from the side that lost 1-0 to Manchester United on Saturday as he continues to marshal a 34-strong squad and figure out his best combinations.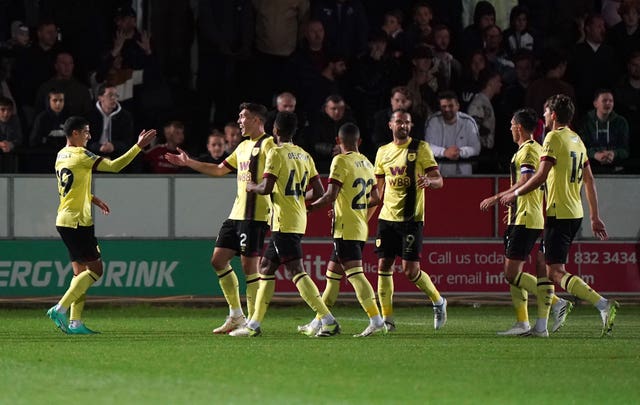 But even with so many changes, it still felt like a strong selection. Vitinho returned from injury, Odobert made his first start and Jack Cork got only his second run out of the campaign, starting in defence, but most of those involved have already featured regularly this term.
After bringing in 13 new faces this summer, Burnley still need time to gel, as has been reflected by their winless start to the Premier League season. A cup win over a side struggling near the bottom of League Two is only a small step forward, but progress all the same.
"We've got a lot of players still gelling together and I don't think players would have played together as a team," Kompany said. "Seeing a collective performance is more important than just seeing the individuals for me."
He added of that gelling process: "It's not something that's abnormal. We knew it was part of something that was going to happen and we had it last year. In that sense, it's not different.
"The level of opposition of course is different but you work hard on the training ground and after every game to make sure the team gets to the level it needs to be at as quickly as possible. You also enjoy that side of it. That's why we're coaches…
"It's still early days for a lot of these guys but in the end, if the collective is robust then you can make adaptations. We prioritised game time – Corky played at centre back as if he had played there for the last 10 years.
"But when you look after the ball and when you have strikers and wingers who can be dangerous, it always gives you a chance to spread the load across the team."