Gary O'Neil painted a bleak picture of the situation at Wolves and admitted "no magic wand" will fix their problems after a 3-2 loss at Ipswich in the Carabao Cup third round.
Wolves slumped to a fifth defeat in eight matches under the former Bournemouth manager, who only took over on August 9 following the departure of Julen Lopetegui by mutual consent.
O'Neil made 10 changes for the Portman Road clash and despite taking a 2-0 lead via goals by Hwang Hee-chan and Toti, the Premier League outfit were on the end of an upset after Championship high-flyers Ipswich responded through Omari Hutchinson, Freddie Ladapo and Jack Taylor.
Asked for a message to disgruntled Wolves supporters, O'Neil insisted: "To stick with the group.
"We are six weeks into a process and there is no magic wand. I can guarantee you when I arrived the place was not running perfectly and ready to go into a Premier League season.
"There are a lot of things that need fixing and of course I am willing to take responsibility, but the facts are you need some time to put things in place. That does not look like a team that I have worked with for very long at this moment, which it isn't.
"Do I accept that we need to get results? Of course. Do I want the fans to enjoy every game we play and come away and support the players? Of course and we will work tirelessly to make sure we get it there and we will get it there.
"But there is no transfer window. The transfer window is closed and we are together as we are and need to get the maximum out of the group.
"We've named a strong team with 11 players that should be capable of winning here and we don't, so it is my responsibility to make sure we get some more out of them."
Life does not get any easier for Wolves with Manchester City set to visit on Saturday and it will be a return to Molineux for Matheus Nunes, who left in a £53million deal last month.
O'Neil pointed out the club's net spend this summer when asked to reflect on the issues at the Black Country outfit.
"I think when I arrived the culture of the club needed a shift and some of it needs to move towards more togetherness," O'Neil admitted.
"Yeah, there is a big list of things that need fixing. Of course I understand it is my responsibility and people will say, 'they did fine last year,' but the truth is they got 41 points and we made an £80million profit on players in the summer.
"So, we're £80million short of where we were and last year we got 41 points.
"We need to move it from that in a more difficult situation now than the club was then player-wise, so that's the facts of the job.
"I understood that when I took the job, I understand it now and every weekend is not going to be rosy. We're going to suffer some tough weekends and we'll need to crack on and go again."
While Wolves were left to reflect on a sorry defeat, Ipswich's highly-rated manager Kieran McKenna toasted his own first win against top-flight opposition.
After Hwang and Toti netted within 15 minutes, the Championship's second-placed club continued their terrific form with three unanswered goals.
Chelsea loanee Hutchinson started the comeback with a right-footed effort from eight-yards before Ladapo fired home inside the area before half-time.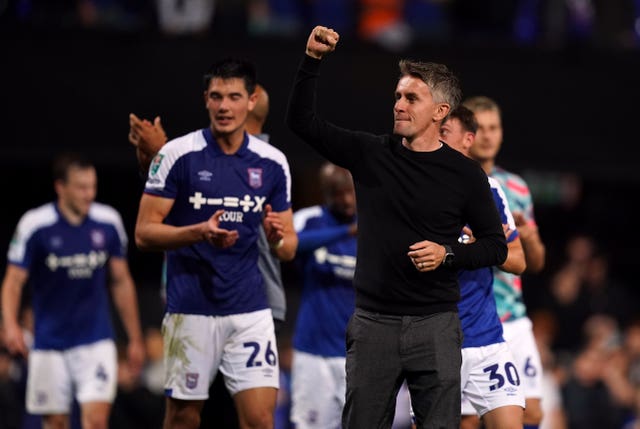 Taylor completed the turnaround with a 25-yard thunderbolt and the 58th-minute strike sent Ipswich into the fourth round of the competition for the first time since 2010.
"We need to enjoy tonight because it is the first time we've had a Premier League team here in quite a few years," McKenna acknowledged.
"It is 11 years since we beat a Premier League team so a good night for progress and the regrowth of this football club again, but it is a cup game.
"The result tonight does not win us anything but it is really significant as a marker point for the development of the squad, so we'll take it as that and enjoy it for a sign of progress."