Henry Arundell has the "world at his feet" if he is able to emulate the adaptability shown by Manchester City striker Erling Haaland, according to his England team-mate Jonny May.
Arundell amassed five tries in Saturday's 71-0 demolition of Chile to equal the record for the number scored in a single match by an Englishman, in the process becoming the leading try-scorer at the World Cup.
The 20-year-old's electric tournament debut has propelled him into contention for the final Pool D fixture against Samoa on October 7, either as a starter or high-impact replacement.
As another super-quick wing who specialises in conjuring sensational length of the field tries, May sees one of his rivals to start against the Islanders as a unique talent.
"What Henry's got is his X-factor. The world's at his feet," said the 33-year-old, who is playing in his third World Cup.
"Everyone around him needs to learn from him, support him and help develop him. He's an important part of this team and we need to get him firing.
"Five bloody tries! Regardless of who you're playing, that doesn't happen very often. It was a special day for him and his family and I've got a feeling he'll have lots of special days ahead of him.
"Henry's an important player for us and he is only going to get better. I'm learning from him as well, competing with him and learning from him.
"He will have some confidence now for the rest of the tournament. He's dangerous when he has got that confidence."
Arundell's strike rate has climbed to seven tries in nine Tests and he is already among the game's most exciting players, even if he remains more raw potential than finished article.
May insists an important lesson Arundell must learn is to remain composed if he is denied the opportunity to display his customary fireworks because of the nature of a game, illustrating his point through Haaland's performance in the Champions League final in May.
Manchester City defeated Inter Milan 1-0 in Istanbul yet their record-breaking striker Haaland played a peripheral role.
"You want to be having your influence in attack, scoring tries and having those moments, but equally the most important games – the hardest games – aren't like that," said May, who has 75 caps.
"It's like the Champions League final and you watched Haaland play. It wasn't a game about scoring lots of goals.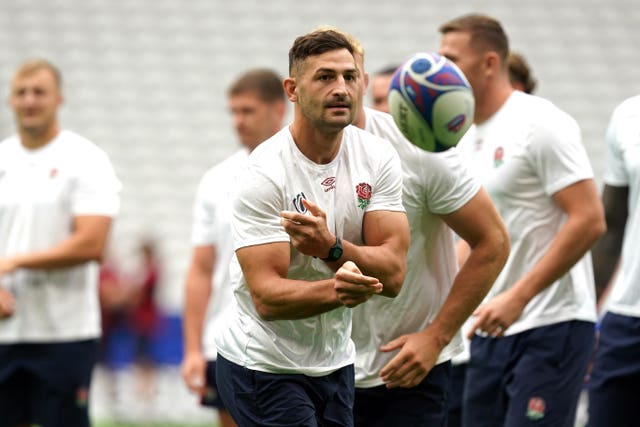 "Those Test matches in knockout games are not about scoring lots of tries, it's about making the least mistakes, a game of chess. It could also come down to a moment of magic.
"I don't want to sound patronising because we play in the same position and I have a lot of respect for Henry as a colleague, but it's about learning those experiences and developing through those type of games.
"He's probably had a couple of games where he's been scratching his head at half-time thinking 'this isn't what I had planned'. Sometimes that's just how it goes – it's more about not making a mistake and just simmering.
"I said to him that some days you don't even get to shoot your gun but don't get frustrated, but Chile didn't end up being one of those games! It easily could have been."