Gloucestershire chief executive Will Brown has called for more innovation to combat the elements after England's summer ended in soggy fashion with an abandoned one-day international against Ireland at Bristol.
Ben Duckett's maiden century in this format underpinned England's 280 for four off 31 overs but their innings in the final match of this Metro Bank series was interrupted by brief but torrential rain.
The players walked off the field at 2:48pm but the umpires' decision to announce there would no further play at 3:21pm caught England captain Zak Crawley and Ireland counterpart Paul Stirling by surprise.
Several puddles formed on the outfield within minutes while the ground staff's attempts to get the covers on were delayed – by umpires Mike Burns and Paul Reiffel hesitating before ushering the teams off – then hindered by gusts of wind, which meant a significant amount of water got on to the square.
Gloucestershire brought in more ground staff for the game but this was a fourth abandonment in a row in a men's ODI at this venue, which has more basic protections to guard against the weather in contrast to its Test-hosting equivalents.
While the match extending past 30 overs meant no refunds for the paying public, Brown, who revealed rain the previous night had already left the ground with a high water table, believes more needs to be done to avoid a repeat of this situation at a venue which will host a men's ODI on September 29, 2024.
"In some respects we were lucky to start when we did on time," Brown said. "We always had the sense that if we had something similar to (Monday) night, 20-30 minutes of rain could be what killed it off.
"It is just gutting. We've had our fair share of rain offs such as in World Cups and you wonder if we give it a bit longer maybe it can dry out, but it is what it is.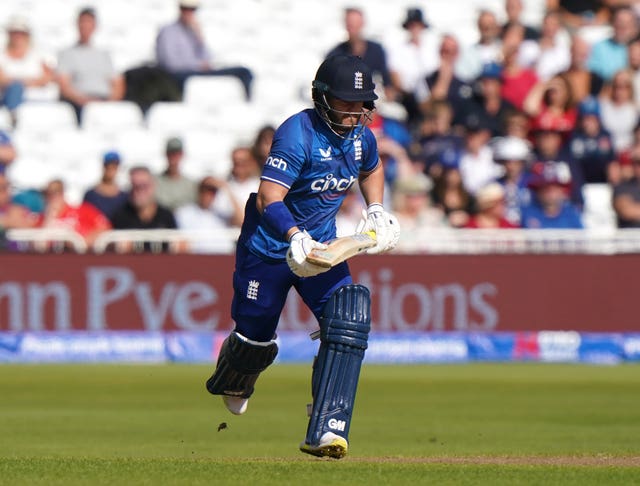 "It worries me greatly that this is a sign of things to come. We've got a lot of cricket being played in September next year and with climate change we've seen heavy rain in June and July.
"I think the game needs to be thinking innovatively about how we get games on or prepare pitches and surfaces using different things to get cricket away."
England celebrated a 1-0 win but the recriminations at a hasty and unsatisfactory conclusion continued, with the wisdom of holding international matches in the UK in September only increasing.
Just one of the three matches in this series – England prevailing by 48 runs at Trent Bridge on Saturday – reached a conclusion and Crawley confessed he was startled by the swift ending.
"It caught everybody by surprise," Crawley said. "I was in the lunch room when the (umpires) said it was abandoned, I didn't know. It caught us all by surprise when they came in to shake our hands.
"The ground was already a bit wet after the rain (the night before). It didn't need a lot more to get abandoned. A lot of rain fell in not a long space of time. There was nothing anyone could do about it."
Duckett's unbeaten 107 from 78 deliveries came after Phil Salt had laid the foundations with an astonishing blitz, thumping seven fours and four sixes in his pyrotechnical 61 off 28 balls.
Crawley also contributed 51 off 42 balls and even though Craig Young was able to stifle England, taking three for 31 from seven impressive overs, Stirling was relieved that Ireland were saved by the weather.
"We were all pretty happy that the rain came but we weren't expecting it to end the game," he said.
"We thought we might get a bit of a rest and regroup, try to get out there and change it up a little bit. We weren't expecting the game to be called off."
Crawley took charge of a second-string side for this series as England's World Cup stars are resting ahead of the defence of their crown getting under way in India next week.
"I've enjoyed it," he added. "It was only really the one game I had to do anything but I enjoyed it and it made the fielding go quicker. It was a great honour."