Europe's Ryder Cup captain Luke Donald has cranked up the emotion in the team room this week by bringing his players to tears but it is all part of the plan to get his stars ready to regain the trophy from the United States.
The tactic of having messages from family relayed in meetings during the build-up has been well used in the past by both sides and the Americans will have undoubtedly done the same at Marco Simone.
And while the videos tug at the heartstrings, they are used as a tool to help boost confidence and reinforce the reasons for their presence in Rome this week.
"It's an emotional week and even some of the stuff that's happened already this week would get you quite emotional," said Irishman Shane Lowry, who famously said after the defeat in Whistling Straits two years ago he had cried then – but not for his 2019 Open win or the birth of his first child.
"There's videos that are played in the team rooms in the evenings, motivational videos and it just kind of hits home a little bit.
"I'm not going to elaborate much further than that, but Luke and his team have done a great job already this week on Monday and Tuesday."
World number three Jon Rahm did, however, expand a little further on what they have been viewing behind closed doors.
"I don't know how much of that they're going to post, so that's kind of personal for us," he added.
"There's very few players not shedding a few tears yesterday afternoon. I can say that.
"It was a lot of family-related (content) and the reason why all of us are here. If you guys (the media) were to watch it, it would make you feel a lot of the same emotions we felt."
While family are leant on heavily for such contributions, the players often seek out reassurance and advice from other sources and Rahm did not think twice about taking counsel from his good friend and record Ryder Cup points scorer Sergio Garcia.
His fellow Spaniard is ineligible to play having resigned his European Tour membership following his move to LIV Golf and despite Rahm campaigning for his inclusion, only a couple of weeks ago calling his omission "stupid" and even Garcia himself trying to negotiate a way in, there was no way back for the 43-year-old.
But that has not stopped Rahm consulting his countryman – and former Ryder Cup talisman Ian Poulter who was not considered for the same reasons – as late as Monday.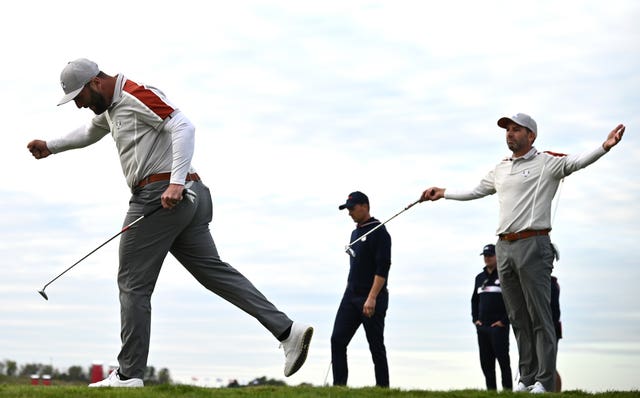 "I did talk to him (Garcia) and ask for advice. He did show me a lot of what to do at Whistling and obviously in Paris, as well," added the Masters champion.
"But I did have a little bit of a chat with him, and with Poulter, as well.
"Poulter was a little bit longer than last week. Sergio as recently as yesterday.
"Not that it's going to be easy to take on the role that those two had both on and off the golf course, but just to hear them talk about what they thought and what they felt is obviously invaluable information."
The dynamic within the team room often plays a huge part in the overall success of the team and as Europe look to bounce back from their record defeat in Wisconsin, Lowry said fighting for a common cause was galvanising.
"I think being a part of something that is bigger than you or anything else is pretty cool," he said.
"Whistling Straits (a 19-9 defeat) was hard to take but it was quite motivating for me coming away from that and it's quite motivating for me this week.
"I'm looking forward to going out there and hopefully earning some points for Europe and hopefully we can all do a great job at trying to win the trophy back."