Newcastle winger Harvey Barnes could be facing months on the sidelines as he awaits a specialist's verdict on the foot injury he suffered at Sheffield United.
The 25-year-old limped out of Sunday's 8-0 Premier League demolition job at Bramall Lane after just 12 minutes, and head coach Eddie Howe fears he could miss a significant proportion of the campaign with surgery a possibility.
Asked if Barnes could be out for some time, Howe said: "Yes, we're fearing it's going to be. It's difficult. I don't want to put a time on it until we get confirmation from the specialist, but I think it will be months rather than weeks."
The England international, who joined the Magpies in a £38million summer switch from Leicester, suffered his injury as he pushed off to run in South Yorkshire and has since undergone a scan.
Howe said: "It's an injury to a part of the foot just below the toe. I think it's quite a substantial injury. We've had it scanned, we're waiting now for a specialist's opinion on what to do next, whether there's surgery involved or not.
"I don't think it was a tackle, I think it was just pushing off to run, a very unusual injury. I won't go too technical because I'm not medically qualified to do so, but yes, very unusual."
Any extended absence would come as a blow to both a player who is desperate to establish himself on Tyneside – Sunday's game was just his second start for his new club – and his employers, who invested heavily in his services during their latest spending spree as they prepared for a season which includes Champions League football for the first time in two decades.
Howe said: "He was down after the game because he knew it wasn't a normal injury where you feel a muscle and think that might be one or two weeks.
"This was a slightly more complex issue, and I think he probably feared the worst because there was no one around him and it was one of those mechanisms where he knew it wasn't quite right.
"There's no doubt he'll be disappointed because he was very keen to show his value and worth and Sunday was an opportunity to do that. But whatever the injury is, we'll support him and we know he's a top quality player and he still has a massive part to play."
The disappointing news on Barnes' injury came as Newcastle turned their attention from a remarkable afternoon against the Blades to the task of finding a way past Treble-winners Manchester City in the Carabao Cup, the only honour Pep Guardiola's men did not lift during the last campaign.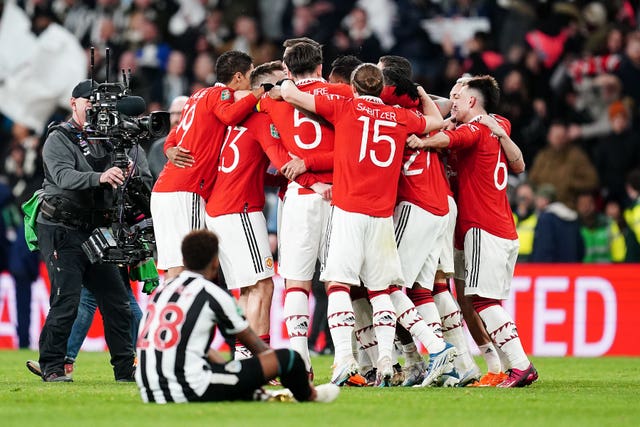 The third round draw could hardly have handed the Magpies, who lost to Manchester United in last-season's final, a more difficult task despite Guardiola hinting he could make wholesale changes with injuries biting hard into his squad.
However Howe, who is himself without the injured Joe Willock and Joelinton as well as Barnes, is refusing to be taken in by the Spaniard.
He said: "Pep is a manager who has won so much and he hasn't done that without giving everything to every moment to try and achieve that success. I've no doubt we will see the best Manchester City tomorrow."