Tom Curry has been pushing himself through the pain barrier in training to ensure he is ready to face Samoa in England's final World Cup group match.
Curry has played less than three minutes of the tournament in France after being sent off in the opener for a dangerous tackle against Argentina, resulting in a two-match suspension.
It continued his challenging start to the Steve Borthwick era, having missed the entire Six Nations and build-up campaign to the World Cup because of injury.
Now poised to make his comeback against Samoa on October 7, the squad's most influential player in defence has been defying the instructions of England's fitness guru Aled Walters to perfect his conditioning.
"Tom is a unique player in that I don't think I've ever come across anyone so fit, or so willing to work hard and put himself through pain," scrum coach Tom Harrison said.
"He just seems to be able to enjoy it and keep going. There was a conditioning session the other day where he finished his reps and Aled Walters was shouting at him, 'Get out, get out'. And he just carried on running.
"He just stayed in and carried on running. And when he did finally decide it was time for time for him to get out, he left the drill and Ellis Genge started hammering him for leaving the drill! And you just saw him getting so angry about it!
"He is in phenomenal shape. He has been brilliant. Unfortunately he was suspended, but he was brilliant by not going, 'Oh I'm suspended for these two games'. Instead he went, 'How can I help England win?'.
"And the work he was doing to help make training hard and difficult for the guys playing, and also the work he was doing with the back rows, to add his experience and his knowledge to our team meetings has been exceptional."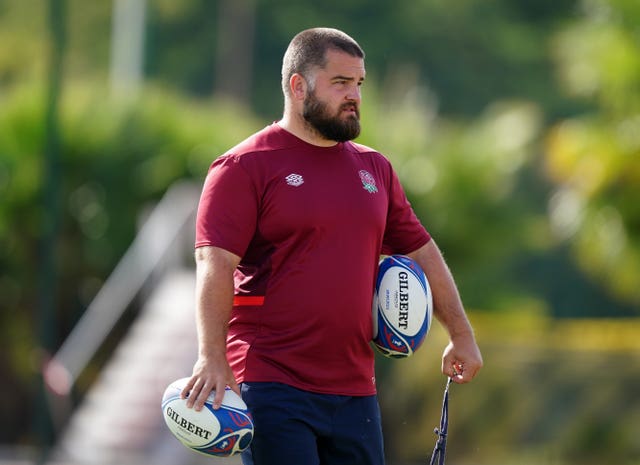 Curry is among a number of players who are visiting Paris for England's bye week with training not resuming until Thursday.
Some members of Borthwick's management team have headed home while others are remaining in Le Touquet, with everyone returning to their camp on the north coast of France on Wednesday evening.
The break has come at welcome point for England, who can relax knowing they have three victories in the bank and are on the brink of qualifying for the quarter-finals, where they are likely to face Fiji.
"The players have dispersed around different parts of France to spend a few days with their families," Harrison said.
"If you look back at how intense campaigns can be, you're with each other all the time, all the time, all the time. It becomes quite intense when you're with the same people all the time.
"It's quite nice to have that mental break to see your loved ones because people say it's players make sacrifices, but it's players who make decisions. The loved ones make sacrifices."
He added: "I'm relaxing by watching scrums, that's what I do! I'll be doing a little bit of training.
"I saw the sights of Le Touquet on Sunday night, which was fantastic.
"I probably had one too many ciders! I found the one bar that served cider over here and enjoyed myself!
"I had 24 hours with my wife and son, which was fantastic. They went back on Sunday. It's back to it for me so it was brilliant to see them."