European Ryder Cup captain Luke Donald admits his team "have their work cut out" as they seek to wrest the trophy back from the United States.
After a record 19-9 defeat at Whistling Straits in 2021, Donald has the unenviable task of trying to maintain the hosts' 30-year unbeaten record on home soil.
On paper the Americans have the superior team, with 10 of their 12 players currently in the world's top 20, and even though Europe have three of the top four, Donald is aware of the challenge which awaits in Italy .
"I know it's going to be a difficult next few days, it really is. The US are very strong. We know that," he said at a press conference at Marco Simone Golf and Country Club in Rome.
"We are coming off our worst defeat ever in a Ryder Cup. US players are strong, high up in the world rankings and they have some great partnerships and have had a lot of success.
"We have our work cut out but as captain you have to be confident. I certainly have a lot of belief in my team and you have to have belief that you're going to get them into a place where they are going to be successful."
Marco Simone is likely to prove a testing layout for both teams due to the weather forecast for the week – temperatures are expected to hit 29 degrees Celsius over the three days – and the undulations and big elevation changes around the course.
Donald has not ruled out some of his players featuring in all five sessions but is more confident that no-one, not even rookies Ludvig Aberg, Robert MacIntyre, Sepp Straka and Nicolai Hojgaard, will be left on the bench until Sunday's singles.
"In terms of playing five, I think there's some guys that certainly could do that, and we have done that in the past. This is a very tiring, taxing golf course," he added.
"It's a long build-up so I'm wary of some of that. I'll certainly be considering that but it's not out of the question that some people might play five.
"I very much doubt that someone wouldn't play until the Sunday singles."
Unusually Donald has opted to begin the first two days with the foursomes format and leave the fourballs until the afternoon.
While the Americans traditionally pick that option when it is their honour, it is the first time since 1993, the last time Europe lost on home soil, that it will be played that way on this side of the Atlantic.
"It's pretty simple really. We feel like as a team, statistically we are stronger in foursomes within our team than we would be in fourballs," said Donald.
"Why not get off to a fast start? That's it."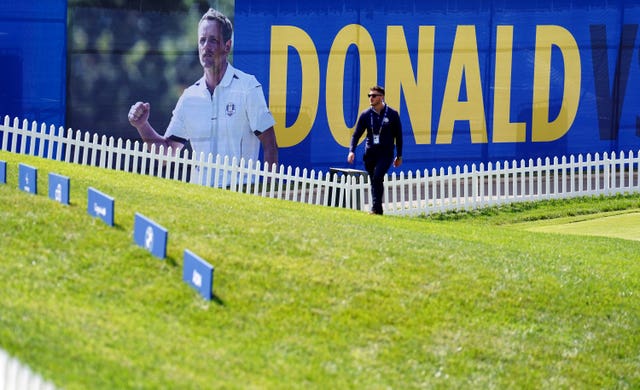 USA captain Zach Johnson was asked whether he had second thoughts about his captain's picks after the overlooked Bryson DeChambeau won his second LIV event in successive months on Sunday.
Brooks Koepka is the only player from the Saudi breakaway league to feature in the team having qualified by virtue of his performances in majors after winning the US PGA Championship and finishing second in the Masters.
On Sunday DeChambeau said it would have been "nice to have a call" but Johnson has freely admitted he paid no attention to the LIV Golf tour and so the 30-year-old was never on his radar, finishing 54th on USA's qualifying list.
"We have a points system within the PGA of America, within the Ryder Cup USA. It's pretty evident how you garner points and which tournaments can accumulate points," said Johnson.
"When it got down towards the end of the process, it was the top 20, the top 25 guys in that point system that I felt like had the merit and should have my full attention."
Johnson also confirmed there would be no morale-boosting last-minute visit from Tiger Woods, who is still recovering from ankle surgery, despite him being part of the process this year and the 15-time major winner would be relegated to the role of cheerleader from back home.
"No, Tiger will not be joining us in Italy. He's got a lot on his plate. As far as communicating with him, we have up to this point but he understands that now that our feet are on the ground, it's probably kind of best that we navigate this ourselves," said the USA captain.
"At this point it's more encouragement on his side, whether he's texting the guys or texting the vice-captains and captains, he's there to encourage because he's very invested in what we do year-in and year-out with Team USA.
"We are going to utilise his knowledge and his wisdom, his candour and his passion the best we can but when it comes to the week of the tournament, if you're not in on it and inside the team room, inside the ropes, shoulder-to-shoulder with these guys, it's not fair to ask him questions.
"At the same time, I don't know if that's proper and I think he would understand completely."