Marta Kostyuk claimed French Open fans who booed her off court for refusing to shake hands with Aryna Sabalenka should feel embarrassed by their reaction.
There was particular interest in the opening clash of the tournament on Philippe Chatrier given Ukrainian Kostyuk has been the most outspoken critic both of allowing Russian and Belarusian players to continue competing and of athletes from those two countries for not speaking out against their nations.
Sabalenka knew Kostyuk would not shake her hand at the end of the match, and the Belarusian said in her pre-tournament press conference: "If she hates me, OK. I can't do anything about that."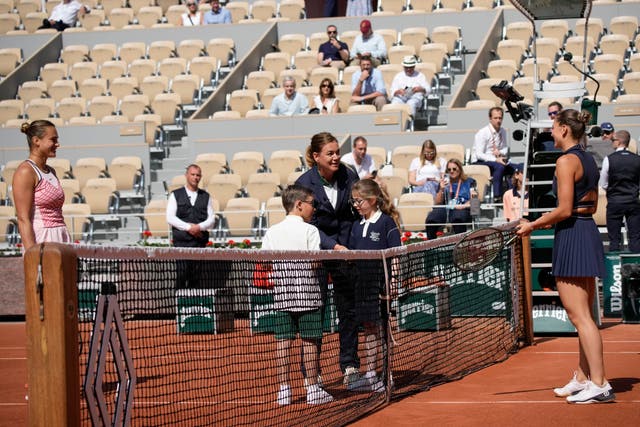 The pair kept well apart ahead of the contest, not posing together for the usual pre-match picture, and at the end of the 6-3 6-2 victory for the second seed, Kostyuk walked to shake hands with the umpire before heading to her seat.
A section of the crowd began booing, startling Sabalenka, who appeared unsure whether the gesture was directed at her and bowed sarcastically, but the fans then cheered for her before jeering Kostyuk when she walked off.
Sabalenka said: "I couldn't understand what's going on. Because we all know Ukrainian girls will not shake hands with us, so it's kind of not a surprise for us, but probably the public today was surprised. They saw it as disrespect to me.
"But at first I thought they were booing me. I spoke to my team, make sure that I understand it right. Then I was saying thank you to the public, I felt sorry for what I did at first.
"I was worried that people will be against me, and I don't like to play when people are so much against me. The beginning was very emotional, but then I got through it and I started playing tennis and focusing on myself instead of the rest of the things."
Sabalenka added she did not feel Kostyuk deserved to be booed, and the Ukrainian was clearly distinctly unimpressed by the reaction.
"I want to see people react to it in 10 years when the war is over," said the 20-year-old. "I think they will not feel really nice about what they did. I didn't expect it. People should be honestly embarrassed."
Pushed by a Ukrainian journalist, Sabalenka went further than she has before towards condemning the war, saying: "Nobody in this world, Russian athletes or Belarusian athletes, support the war. How can we support the war? Normal people will never support it.
"Why we have to go loud and say these things – this is like one plus one, it's two. Of course we don't support war. If it could affect anyhow the war, if it could stop it, we would do it. But, unfortunately, it's not in our hands."
Kostyuk still believes Sabalenka is not doing enough, though, saying: "She never says that she personally doesn't support this war. I feel like you should ask these players who would they want to win the war because, if you ask this question, I'm not so sure these people will say that they want Ukraine to win.
"She should talk for herself, I think, first of all. Then talk about all the other athletes because I personally know athletes from tennis that support the war."
Kostyuk rejects the idea Russian and Belarusian athletes are in a tricky position, saying: "I don't know why it's a difficult situation for her.
"She might be world number one after this tournament and she's going to be world number one in one of the most known sports in the world. Just by speaking out, I think she can just send a message because most of these people (in Russia and Belarus), they haven't even ever left the country.
"She said that I hate her. I never said publicly nor privately nor to anyone that I hate Aryna Sabalenka or any of the players. I just don't respect her because of her position in this situation.
"I don't know what other players are afraid of. I go back to Ukraine where I can die any second from drones or missiles, and I try to go back there as much as I can."
Kostyuk and other Ukrainian players have been vocal about what they perceive as a lack of support from the WTA amid locker room tensions.
Wimbledon organisers and the Lawn Tennis Association announced last month following the lifting of the ban on Russian and Belarusian athletes that players from Ukraine will be given free accommodation and access to practice facilities during the summer grass-court swing.
"Obviously, it's nice, and it helps," said Kostyuk, who is currently living in Monaco along with her mother and sister, while her father and grandfather remain in Kyiv.
"Obviously, no one can understand what we are going through. It's unexplainable. It just makes me believe that there are good people in this world left.
"I just hope that someone like the UK will not grant visas (to Russians and Belarusians) and they will not be able to enter the country and they will not play."
Elsewhere, third seed Jessica Pegula eased into the second round with a 6-4 6-2 victory over fellow American Danielle Collins but eighth seed Maria Sakkari lost 7-6 (5) 7-5 to Karolina Muchova, going out to the Czech in Paris for a second consecutive year.