Two men have been charged in connection with protest activity during the Gallagher Premiership final at Twickenham on Saturday.
The Metropolitan Police said that Samuel Johnson, 40, of Reydon, Suffolk, and Patrick Hart, 37, of Brislington, Bristol, were charged with aggravated trespass.
The Just Stop Oil protesters invaded the pitch midway through the first half of the match between Saracens and Sale, throwing orange paint powder on to the field.
The duo were escorted out of the stadium by stewards and the game continued, with Saracens going on to win 35-25.
A statement from Commander Kyle Gordon, of the Met, read: "To date we have seen 102 slow marches across London by Just Stop Oil that has caused serious disruption and frustration to those going about their business in the city leading to 51 arrests to date.
"Similarly, yesterday's incident at the rugby final will have caused frustration to both the players and spectators alike.
"With many other events taking place, and visitors in our capital this weekend, we will continue to monitor and respond to such incidents quickly.
"Where protest moves into criminality or serious disruption, we will take robust action to ensure Londoners and visitors alike can continue to enjoy their Bank Holiday weekend."
A statement from Just Stop Oil was published after the incident confirming that two protesters had taken to the pitch and outlined their reasons for doing so.
"Two Just Stop Oil supporters have disrupted the Gallagher Premiership Rugby final," read the statement.
"They are demanding a halt to any new licences for oil, gas and coal projects in the UK."
Hart said: "I am doing this because it's my duty as a doctor. The climate crisis is the greatest health crisis humanity has ever faced.
"People are dying now and more will die every day unless we stop new oil, gas and coal.
"In the same way the tobacco companies lied to us that tobacco was safe, the scrum of fossil fuel companies and corrupt politicians have been lying to us. They are keeping us addicted to fossil fuels, even though they know it's killing us.
"I am not prepared to let them get away with mass murder. We are ordinary people. We are the doctors and nurses who care for you when you are sick. I call on everyone to come and join us in the streets and be on the right side of history."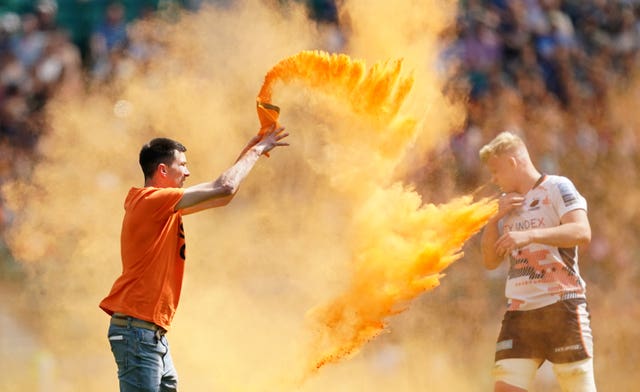 Johnson said: "I took action today simply because we have run out of time. We've got to tackle this now.
"We have known for longer than I've been alive what would happen if we kept burning fossil fuels and now we are seeing this catastrophe unfold in real time. The whole world knows that licensing new fossil fuel projects in 2023 will cause the deaths of millions of people.
"We are at the greatest crossroads humanity has ever faced and unless we act now we will lose everything we have ever cared about. I have a nephew who is seven years old, who I love to bits, and as long as I have breath in my lungs I will fight to protect his future."
The protest is similar to one that took place at the World Snooker Championship at the Crucible in Sheffield in April.
A man tipped orange paint on a table during the match between Robert Milkins and Joe Perry before a woman was prevented by referee Olivier Marteel from doing the same thing on the opposite table.