Rob Edwards' delight at Luton ending their 31-year wait for Premier League football was nothing compared to the relief he felt at the news captain Tom Lockyer was all right.
Saturday's Sky Bet Championship play-off final went the distance at a packed Wembley, where the Hatters rallied after their skipper's worryingly collapse early on.
Jordan Clark put Luton into a deserved lead that Coventry midfielder Gustavo Hamer cancelled out in the second half, with the match ending 1-1 after 90 minutes and extra-time.
Joe Taylor saw a winner ruled out just before spot-kicks, with Fankaty Dabo's sudden-death miss sealing a 6-5 shoot-out triumph that propelled Luton back into the top-flight for the first time since 1992.
The dramatic triumph means the Hatters will welcome Manchester City and Co just nine years after facing the likes of Salisbury and Hyde in the Conference Premier.
Luton boss Edwards said: "I felt a bit numb. I just made sure I shook Mark's hand and his staff.
"I don't want to be that guy that just starts running off and celebrating before I've seen the other manager.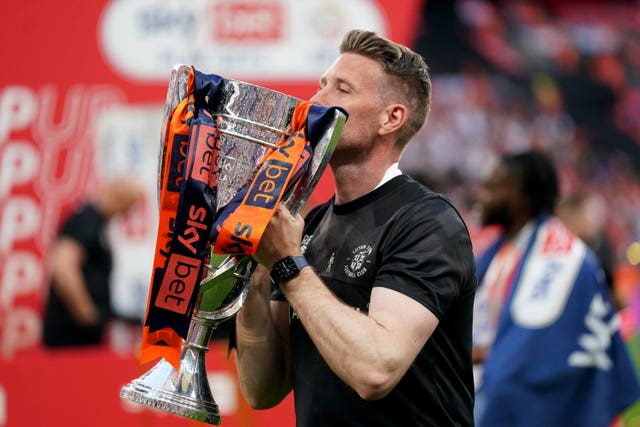 "I just felt very numb. I still do. It hasn't sunk in quite yet. It might take a few days, but it's great. It does feel good.
"It was mixed because of Locks (Lockyer), that's why I couldn't really go for it celebrating."
This is a day that will live long in the memory of anybody connected to Luton, whose players held a Lockyer shirt throughout the celebrations.
The Hatters captain collapsed when running back to defence in the early stages of the final, leaving the field on a stretcher and being taken to hospital for tests.
Luton confirmed Lockyer was "responsive and talking to his family", with his dad posting an image of him in a hospital bed celebrating the shoot-out win.
Edwards cried with delight when he saw that image and hopes to soon celebrate with the much-loved skipper.
"If we can we will (see him in hospital)," he said of Lockyer, who is expected to be kept in overnight. "But I don't want to get in the way and if I'm not allowed then I won't.
"If I'm allowed I would love to go and see him, but then I think we're so tight as a group that I'm not sure if 40-odd people are allowed to go and see him in hospital.
"We will have to check on that, but I'm just so thankful that he's OK because that's all that matters.
"I wasn't really able to enjoy any celebration at the end because all I cared about was Locks."
As for Coventry, it was a heartbreaking end to a memorable season.
Bottom of the table in October and taken over at the start of the year, boss Mark Robins was agonisingly close to leading the Sky Blues from League Two to the top flight.
"Firstly, congratulations to Luton because once the game is over and done with you've got to congratulate the winners," the long-serving Coventry boss said.
"They've come out on top today, however tight the game may have been.
"Congratulations to them and their supporters. I think they have been outstanding all season and good luck to them moving forward.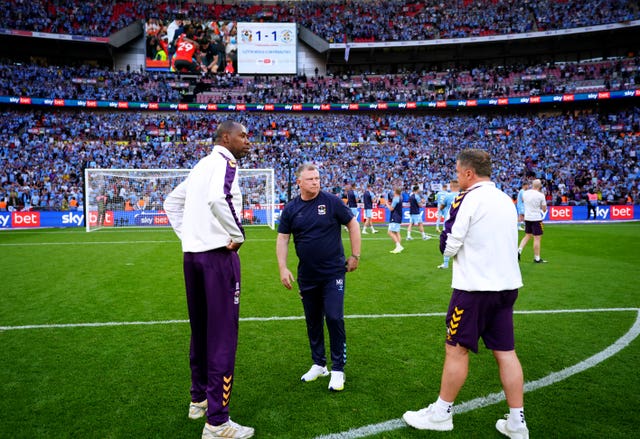 "I think for us, certainly the opposite of their joy is pain.
"You certainly feel a bit of pain, but once that pain starts to dissipate in however long it takes for it to go, we've got to reflect on what an unbelievable achievement it's been just to even be here today in a play-off final.
"The division is very, very tough as we all know and unfortunately we couldn't make that next step."