Morgan Smithies is undaunted by the prospect of pulling on one of the most storied shirts in Super League when Wigan kick off their quest to overhaul four-time defending champions St Helens later this month.
The Halifax 22-year-old has been rewarded with the number 13 jersey made famous by the likes of Ellery Hanley, Andy Farrell and Sean O'Loughlin, three lynchpins of the club's golden era that glittered through the 1990s and beyond.
As a young loose forward at his junior club Siddal, Smithies dreamed of emulating his heroes and that dream was realised when O'Loughlin and current Warriors head coach Matt Peet – then director of youth – brought him into Wigan's academy as a teenager.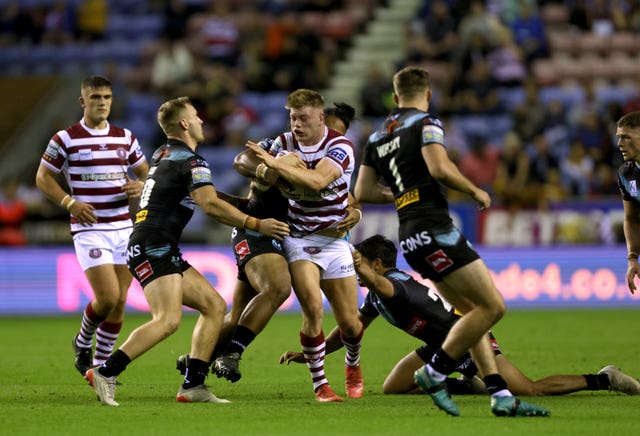 "I always aspired to the 13 shirt because all the legends that have worn it before, and now it is up to me to grasp the opportunity with both hands and put my own stamp on it," Smithies told the PA news agency.
"It will bring a bit more pressure but I always put pressure on myself to perform well for Wigan. My standards will go that little bit higher and representing that 13 shirt will bring out the best in me."
O'Loughlin, now one of Peet's assistant coaches, has been integral to Smithies' development, acting as a mentor during his rise from scholarship terms and the academy squad to making his first-team debut in Super League in 2019.
"I looked up to Sean for a number of years, so going from there to sitting in the meeting room one-to-one going through clips of him, I was starstruck," Smithies admitted. "It was a pretty mad experience and it took me a while to get used to it."
Smithies' emergence is indicative of Peet's philosophy of prioritising development within the Warriors, honed during his five-year stint in charge of the youth set-up, and O'Loughlin says he has no doubts he will rise to the challenge.
"Morgan has progressed from a young amateur playing in that position all the way through the academy, and I'm sure getting that shirt will be a great source of pride for him," said O'Loughlin, who made more than 450 appearances for his home-town club between 2002 and 2020.
"The number 13 shirt for me personally was all about who was wearing it at the time – I was well aware of Ellery Hanley and Phil Clarke, and probably the most dominant one of all for me was Andy Farrell.
"It was my position growing up – the old-fashioned number 13 gives you scope to have a bit of football in your game and do the nitty-gritty stuff as well.
"The number 13s at this club have tended to hold onto this shirt for a long time, and that is the great thing about Morgan, he still has so much in him and so much more room to improve.
"The beauty of being number 13 is that you don't have to try to be like anyone else. Morgan is a very level-headed character and while he is well aware of the history that comes with the shirt, I expect him to go out there and make it his own."