Wrexham defender Ben Tozer has said Sheffield United striker Billy Sharp has "fabricated stuff in his head" after the FA Cup replay between the two sides ended on a sour note.
Sharp and Blades team-mate Sander Berge scored stoppage-time goals to earn a 3-1 win and deny the Hollywood-owned Vanarama National League side a blockbuster fifth-round clash with Tottenham.
Sharp was highly critical of Wrexham in a punchy post-match television interview, claiming they had been disrespectful in the build-up to the match and he did not save all of his words for the TV cameras.
Tozer claims Sharp told Wrexham's players to "shove it in the documentary" – referring to Disney+ programme 'Welcome to Wrexham' – in the tunnel after the match and said that the veteran lacked humility.
"I feel like a bit of a dampener has been put on the game with how they have acted in the tunnel if I am being honest with you," he said.
"They showed a real lack of humility. If that's the way they want to be, I feel like if we had won that game we would have showed a lot more humility and respect.
"They should show more respect to us instead of telling us to shove it in the documentary. I feel like he has fabricated stuff in his head to make that acceptable for himself.
"I said to him face-to-face to show a bit more humility. We congratulated them on the win, we haven't come in sulking, we have walked in the tunnel as normal and it is just a shame that is the way he ended."
It appears that Sharp's ire stemmed from a tweet Wrexham put out after the first game, which ended 3-3, suggesting they already had eyes on Tottenham, while a fake Sheffield United account appeared over the last couple of days advertising tickets for the Spurs game before the replay.
"Maybe it has, I haven't seen that myself," he said when asked whether Wrexham's tweet had been antagonistic.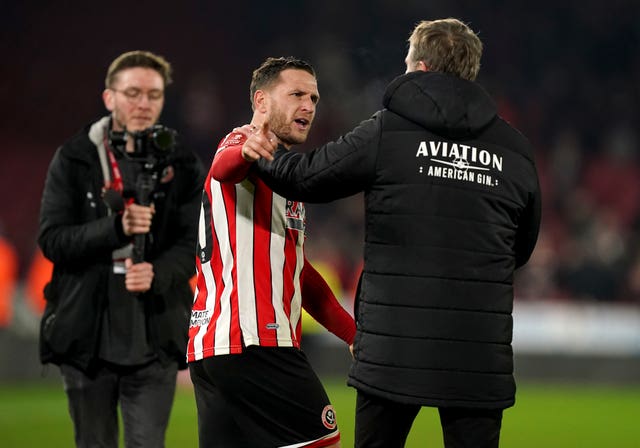 "Apparently they were selling tickets for the game. It's a bit petty, all of it is a bit petty. Like I say, has it riled them up that much? I think that's an excuse to be honest with you. That's the way he wants to be, we'll roll on as we should.
"Appparently they were tweeting tickets for the Tottenham game before this game was played and you have people like Oli McBurnie saying stuff in the press.
"I don't believe any of our lads have said anything. If that's the way they want to be, that's the way they want to be."