Servicemen from the Royal Regiment of Scotland who helped carry the Queen's coffin at her lying-in-rest in Edinburgh are among those recognised in a special honours list.
The chief steward of St Giles Cathedral and the Garrison Sergeant Major of Edinburgh Garrison also received honours under the Royal Victorian Order (RVO) in recognition of their service to the Queen, as part of a special set of Demise awards.
After the death of the Queen at her Scottish residence in Balmoral on September 8, her coffin was transported to St Giles' Cathedral in Edinburgh.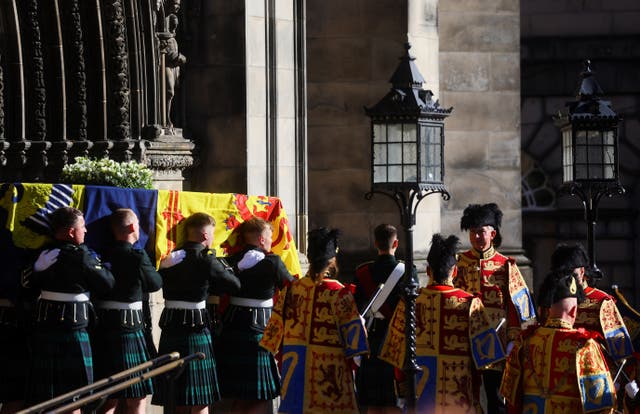 The Queen's lying-in-rest opened to members of the public for 24 hours, with thousands queueing the streets to pay their respects to the longest serving British monarch.
Members of the royal family also took part in a vigil to honour the Queen, with the King, Camilla, the Queen Consort, the Princess Royal, the Duke of York and the Earl of Wessex watching over the coffin.
The demand to see the Queen was so high that the queue had to be closed after noon.
Among the members of the bearer party to be made Members of the RVO were Lieutenant William Bird and Warrant Officer Scott Cox.
Warrant Officer Anthony Gibson, Scots Guards, Garrison Sergeant Major, Edinburgh Garrison, also made MVO for services at the lying-at-rest.
Bearers awarded the Royal Victorian Medal (Silver) included Private Lyle Foot, Lance Corporal Ryan McAllister, Private Cameron McCabe, Private Kian Meikle, Corporal Robbie Morton, Private Ryan Ritchie, Private Tom Sinclair, Lance Corporal Jonathan Stevenson, Private Graeme Thomson and Private Peni Tubuna.
The Earl of Dalhousie, formerly the Lord Steward of the Royal Household is made a Knight Grand Cross of the RVO, while Dr Joseph Morrow, Lord Lyon King of Arms, becomes Commander.
Those made Lieutenant of the RVO include Alexander Garty, for transport services and James Hynd, the Scottish Government's head of Cabinet.
Among new Members of the RVO are John Andrew, chief steward of St Giles' Cathedral and Superintendent Stewart Drummond of Police Scotland.
Awards under the RVO are in the King's gift and are bestowed independently of Downing Street to people who have served the monarch or the royal family in a personal way.