The Prince of Wales has met the daughter of former South African president Nelson Mandela while on a visit to Liverpool.
Charles spoke to Dr Makaziwe, or Maki, Mandela, and her daughter Tukwini, at a reception celebrating the city's ethnic minority community in St George's Hall on Tuesday.
Dr Mandela showed the prince a selection of her father's drawings, which are on permanent display in the building.
The Struggles Collection of artwork was donated to Liverpool City Council and charity Mandela 8 last year, and is made up of five line drawings depicting the stages of South Africa's development and the direct influence Mandela brought from struggle, imprisonment, freedom, unity and future.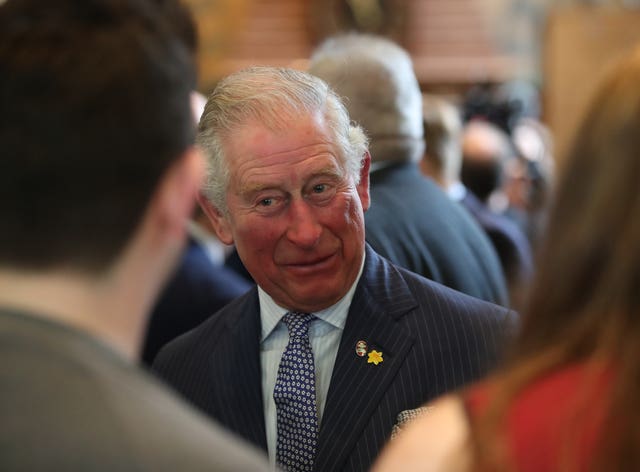 Dr Mandela said Charles had praised the artwork.
"He thought they were great," she said.
"I know that he paints but he said his drawings are not as good.
"He particularly liked the artwork about the future.
"I think he was impressed because he believes, as my father did, that the future is about children and he is a philanthropist as well."
Dr Mandela, who is in Liverpool on a short visit, said Charles had spoken to her about attending her father's funeral.
She said: "He said that it was a memorable event and he'll never forget the music."
Monday marked the 29th anniversary of Mandela, who led the movement to end South African apartheid, being released from prison after 27 years.
Charles also met Sonia Bassey, the chairwoman of Mandela 8, which has commissioned a memorial to Mandela in Princes Park, Toxteth.
Ms Bassey said: "He was very interested in what the design represented and we talked about the memorial.
"We want the memorial to be used as an educational platform and he was quite interested in that.
"It's key to make sure we look to the future to ensure people of all ages are really thinking about how we can get along with each other and live in peace."
Charles met wellwishers outside St George's Hall as he arrived and then walked through immersive theatre production The Alice Experience, a production based on Alice's Adventures in Wonderland.
He spoke to management and actors involved in the production and was treated to a short performance by the cast.
He finished his visit with a tour of the building's recently rediscovered undercroft to view gallery spaces which have been created there.
Charles last visited the hall when he reopened it after refurbishment in 2007.
The building, which opened in 1854, is home to a Minton mosaic floor of more than 30,000 tiles.
It is the world's first commercially air conditioned building and, when built, had the largest barrel vaulted ceiling and the largest piped concert organ in the world.